LASERTRON LED Illuminated Arenas
Patent Protected Component Designs
LASERTRON's newest LED Illuminated arenas are the most distinctive laser tag arenas in the world. A LASERTRON arena will set you far apart from all the similar looking black light UV painted laser tag arenas on the market today. Even bowling suppliers are selling more and more LED Illuminated bowling lanes with special effects LED lighting.
LASERTRON is the sole market leader for LED Illuminated Laser Tag Arenas. With 9 molded arena components and extrusions, we can design the most elaborate and durable LED Illuminated arenas. No other Arena Supplier has our capabilities.
Life Time Warranty - Extreme Durability
Lifetime Warranty on all LASERTRON custom molded arena components plus 3 year warranty on all LED lighting. No other arena supplier comes close to the durability and warranty of our arenas.
LASERTRON LED Illuminated Arenas look like new for 20+ years
As successful operators already know, the durability of an attraction is very important, but so is the long-term look of the attraction. When an attraction starts to show wear and tear, your customers will notice and their perceived value of the attraction will decline. Whether you spend any money to maintain your attraction or not, you will pay a price.
The cost to maintain the look of an attraction must be factored into your attraction purchase. LASERTRON has continuously invested significant dollars to design and create high quality molds and extrusions that allow us to create amazing LED Illuminated arenas that look great for 20+ years.
Easy to Reconfigure and Update
LASERTRON arenas are the easiest arenas to reconfigure and update over time. As new arena components are created, they are designed to be compatible with existing components. New elaborate obstacle designs, center towers, and base stations can be modified or completely redesigned while reusing all your existing components.
LED Lighting Effects
LASERTRON's LED Illuminated arenas can be controlled by LASERTRON's base stations as well as additional DMX controllers. The LED lighting can change colors, pulse, flash, strobe, move to the beat of the music, or other game play events going on in the arena. LED lighting can also be adjusted to be brighter or dimmer depending on the owners preferences or even the age range of the players in the arena. Hazer included with LED arena.
LASERTRON Wall Medallions and Wall Paint Designs
Medallions and wall designs enhance the overall look and feel of the LED Illuminated arena. Medallions can also be tied into DMX controllers and change to the color of the team that is winning.
Important note: Black light UV murals are static and can't flash, pulse, or change colors.
Low Maintenance
LASERTRON arenas require very little maintenance to keep them looking like new.
How does a LASERTRON LED Illuminated Arena Save You Money?
With a LASERTRON LED Illuminated arena, you don't have to install black light fixtures and bulbs and all the extra electrical conduit and circuits. You save $1.50 to $3.00/sq.ft. of the total playing field size when you invest in a LASERTRON LED arena. If the total size of your playing field is 4,500 sq.ft., you can save up to $13,500 dollars.
With a LASERTRON LED Illuminated arena, you save $10,000 to $40,000 every 4 to 6 years, because you don't have to hire a professional artist to repaint all the wall murals and arena obstacles. If a UV painted arena isn't touched up, the customers will notice the wear and tear more and more every year.
UV black light paint fades over time and so does the intensity of the black light bulbs. This causes the arena to get darker and darker. The fading of the UV paint and black light bulbs require black light arena operators to buy new black light bulbs every 2 to 3 years plus significant portions of the arena will need to be repainted to get the wall and obstacle paint to pop again.
We operate the longest running laser tag arena in the United States in our Buffalo, NY entertainment center. For 20+ years we designed and built arenas using Black Lights and UV reactive paint. We can still build you a Black Light arena, but we don't suggest it. During the 20+ years we operated with a black light UV painted arena, we repainted our arena way too many times and replaced hundreds of black light bulbs. Many Black Light arena operators wait too long to make their arenas look good again, because it's disruptive to repaint an arena that's already open to the public AND it costs a lot of money.
It took a long time and a lot of dollars to get our LASERTRON LED Illuminated arenas to where they are at today, but it was worth the price. Most importantly, we aren't finished and laser tag operators like yourself will continue to receive the ongoing benefits of owning a LASERTRON LED Illuminated arena.
LED Vesting Racks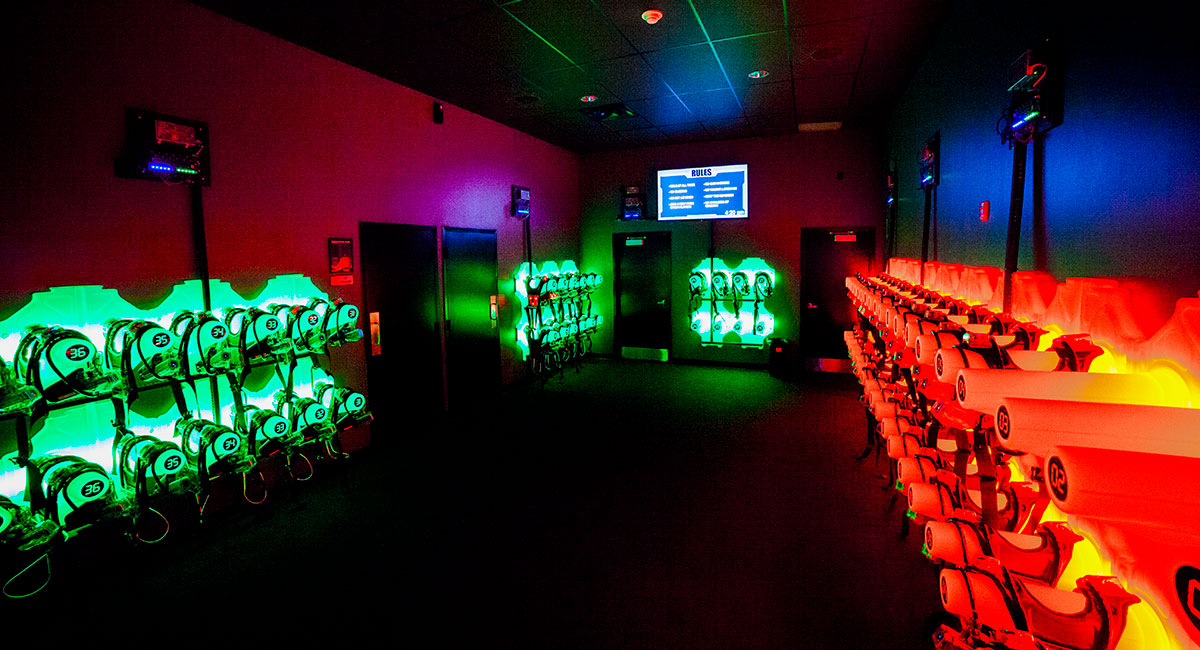 Additional Premium Upgrades
Deluxe Medallion Packages
Deluxe LED Towers
Enhanced Rechargers
Enhanced Bases
Custom Facades
LASERTRON Controllers (Lighting and Sound Effects, Music, Speech, Domination Sectors, Arena Targets, Base Targets, Recharging, and Respawning)
Need More? Get Started Here!
Your Project Advisement Team