Welcome to the World of Cyber Sport
A New Attraction for Your Entertainment Center
Cyber Sport ® combines a sporting experience with a highly maneuverable vehicle** that adults and kids* love to play. Cyber Sport®™ is a turnkey installation for your center. The thrilling multi-player interactive experience can either be operated as a stand-alone attraction (with an arcade, bar, and food service) or as a unique addition to an existing or future multi-attraction entertainment center.
(*recommended for players who are a minimum of 54" tall)
(**U.S. Patent No. 8,033,346)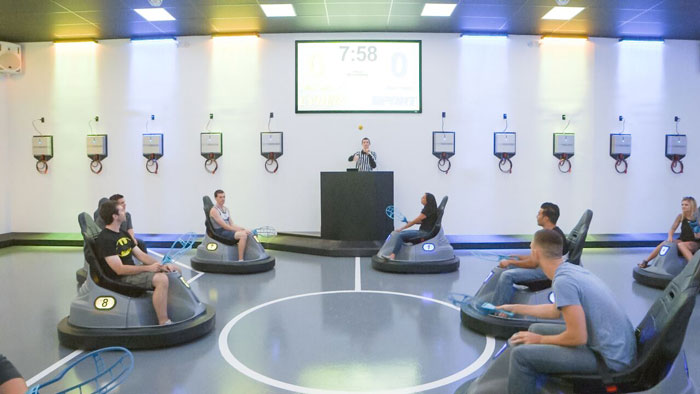 The Game
The Cyber Sport ® game is a combination of lacrosse and basketball on custom-designed Cyber Cars. Two teams of up to five players each pass around a soft ball using one-handed scoops. Goals are scored by driving or passing the ball towards the opposing team's goal and shooting the ball through one of three goal targets.
Automation, the Key to Consistency
A referee controls all the action automatically, utilizing a specialized touch screen and the Cyber Sport ® game computer. The Cyber Sport ® touch screen game controller and game computer are the heart of the game system. Using the automated system, the referee can:
track individual player statistics
award goals for each team
call penalties automatically
stop and start the game or the Cyber Cars
This is all accomplished at the touch of a button. This automated system means that your game experience is more consistent for your guests.
The game computer initiates sound effects which can be customized for a location to keep players informed about the game status.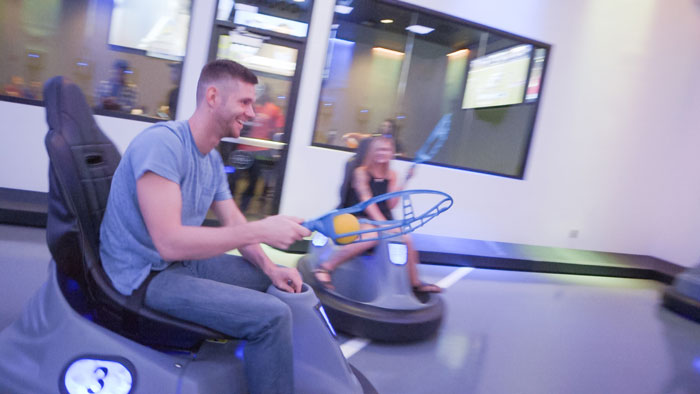 The New CS-3 Production Car Design is Available Now for Installation
The first court opened in Buffalo, NY in July 2006 at the LASERTRON Interactive Entertainment Center with the first model CS-1 cars. All new installations of Cyber Sport ® will feature our new high-tech CS-3 design. This new high-tech look includes important mechanical and electronic upgrades from the first and second generation cars.
Contact Your Advisement Team to see if your town or city is still available.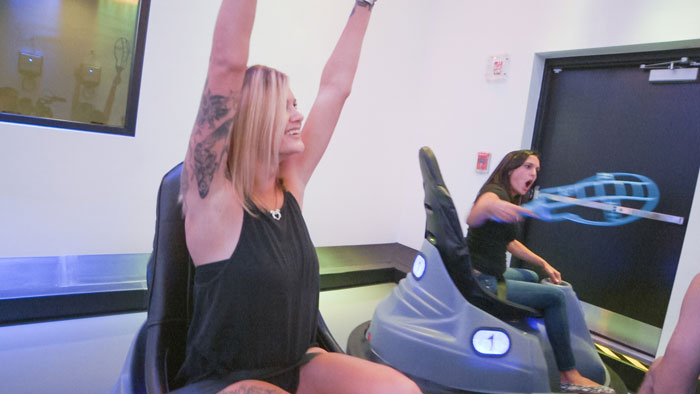 Moderate Footprint
Cyber Sport ® can be played in a rectangular court at 2200-2400 square feet making it ideal for locations without room to build a full-size laser tag or other larger attractions. We recommend multiple courts for all locations for maximum throughput. Preference is given to multi-court operators.
Complete System
Cyber Sport ® is a complete attraction, including vehicles, sound system, game computer and scoring targets. You supply the room and we'll do the rest.
Multi-Purpose Room Use
Your Cyber Sport ® court can become a banquet room. Park the vehicles in the Cyber Sport ® garage or one end of the court to use the space for other purposes. At our own facility in Buffalo, New York, we have already used the Cyber Sport ® courts for large birthday parties, dances, business meetings, team-building programs and conferences.
Download the Cyber Sport ® Brochure
Compare Cyber Sport &reg to Whirlyball ™
Watch a Video of Cyber Sport ® in Action
Cyber Sport ® is a unique game. Check out these Cyber Sport ® videos.
---